Most of us are familiar with x-rays, whether in a hospital setting or a dental clinic. Here at our dental practice, we use x-rays to identify oral health issues, especially those that are not observable on the surface.
We're very proud to be able to offer patients both digital and panoramic dental x-rays near you. Instead of utilizing traditional x-ray film, digital x-rays generate images on a computer. Panoramic x-rays, as the name indicates, capture a more encompassing image of your smile and your facial structures.
For more information about this, please contact our team today.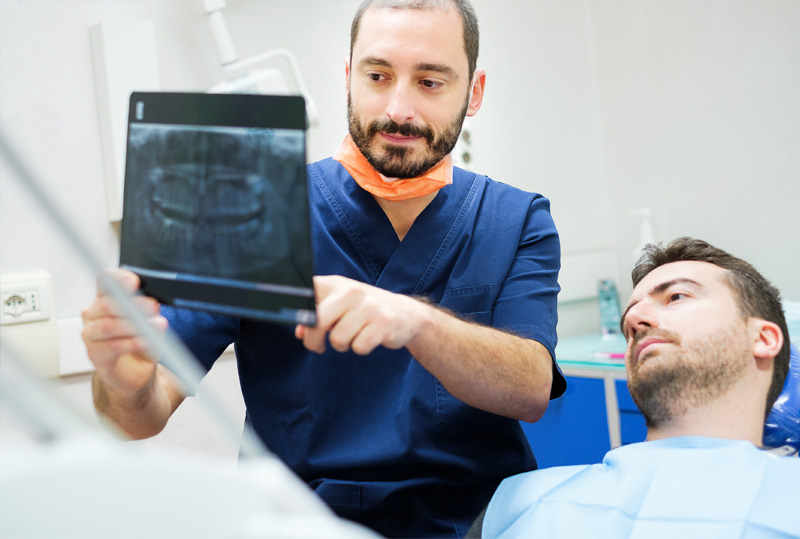 An x-ray is a piece of technology that's utilized by healthcare professionals, including dentists, to examine, prevent, and diagnose a wide variety of conditions. They allow these individuals to view and therefore understand how your gums, the roots of your teeth, and your bones are faring and whether they require treatment.
The process itself is very straightforward and pain-free. You'll be given a weighted apron to protect your chest and neck from any radiation exposure – however, it is important to note that x-rays are safe for patients of all ages. The amount of radiation they emit is extremely minimal. Nonetheless, talk to your dentist if you feel uncomfortable.
Overall, the process should only last about 5 to 10 minutes; then you'll be able to carry on with the remainder of your treatment or go on with your day.
Listed below are just some of the many things that dental x-rays can identify:
Bone deterioration.
Damaged or decayed tooth roots.
A cyst/abscess.
Tumors, both cancerous and noncancerous.
Irregular jaw position.
Getting Dental X-Rays Near You
Typically, your dentist will take x-rays of your smile during your routine checkup. If you're dealing with a more serious issue, like periodontal disease for example, you may be advised to come in for x-rays more frequently. Every patient is different. At Uplands Dental, we offer x-rays in Nanaimo. If you're looking to get started and book an appointment, call, or visit our website today!